A great start to the day, Oscar must have picked up on what I had been saying as a behaved beautifully.
Then a calm drive along the 414 to Harlow for a meeting. Listen to Kate Mosse's The Cave. Very good, but found myself driving increasingly slowly when it was getting to the tense bit!
Then back to the office to catch up on all the work that isn't getting done at the moment. Only to find that the High Street was shut off due to a gas leak.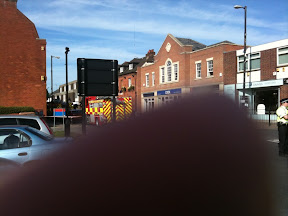 Ok, so not my best photo...
The good bit was that we were sent home early.
And finally my evening walk.