Walking is limited this weekend, due to Oscar's little op!
He is unimpressed by it all....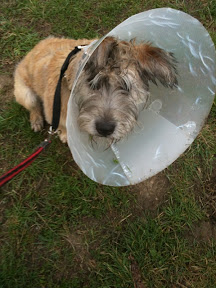 He tried to get through the cat flap with his stylish new head gear, and complete dismantled it. Finished off what Peggy Sue started!
One, sort of, repaired cat flap, at least there won't be any more drafts and the animals will have to learn to keep their legs crossed until I get home!!
Still not impressed :-(